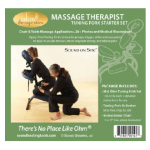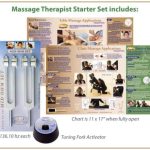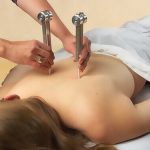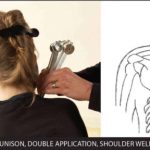 Massage Therapy Box Set
Massage Therapist Starter Set includes two Mid Ohm Tuning Forks (136.1 hz ea) with 3-panels of instructions, Tuning Fork Activator, and 2-sided laminated Instructional Chart (11 x 17″).
The Mid Ohm Set features packaging with photos showing how to correctly hold, activate and apply tuning forks and includes instructions for a Spinal Treatment (Hua Tuo Jia Ji points).
The Ohm unison is recommended for working bilaterally and distally on the body, and for doubling the healing resonance.  Use on tight muscles, reflex, trigger and acu-points.
Photos and medical illustrations show what tuning forks to apply, anatomical placement, and explain why each placement is beneficial.
Enrich your bodywork treatments with a new therapeutic dimension. Easy-to-learn tuning fork applications complement Table and Chair Massage: the back opens up beautifully for shoulder and spinal applications, and sound travels deeply in the body, accessing hard to reach places. Learn how to apply Ohm Tuning Forks to muscle groups, trigger, reflex and acu-points to relax muscular tension, move stagnant energy, and relieve pain.
Benefits extend to the practitioner as well. Use tuning fork(s) to alleviate stress and fatigue to thumbs, forearms and wrists, while introducing a new therapeutic element to treatment
$172.47